The Pros and Cons of Boarding Life at Woodlands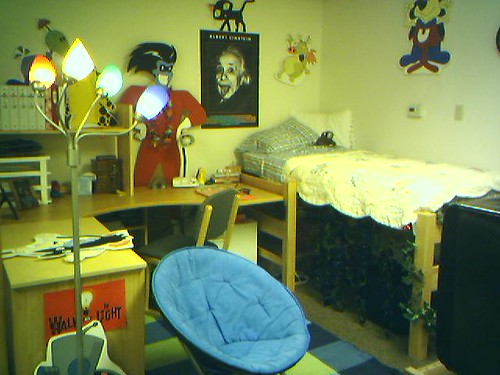 Have you ever wondered what is on the second and third floor of Woodlands, or what it is like to stay at school 24/7? Well, almost a fifth of the school's population could answer these questions, yet so few of the school's community truly understand what it is really like to live as a boarder. 
A normal day of boarding school at Woodlands is a lot like your own, except for the obvious, going up stairs to your bedroom at school instead of commuting home. A typical day of a border would start with waking up and going to classes. After school, if students don't have after school activities, they go to different study hall sessions. There are two study hall sessions: one in the late afternoon and one later in the evening for students, who participate in sports, choir, or theater. Then, boarders must complete sign ins, mini contracts that act as reminders to obey curfew and not go to the first floor after ten. Near the end of the day, there are community dinners, and then, students spend the rest of their day in their own ways. However, usually, there are trips and activities that students may participate in. These trips and activities can be revoked if attendance at study hall or community dinners dwindle.
With everything in life, there are of course pros and cons to a boarder's life at Woodlands. Both Karla Tapia, 3rd year boarder, and Ms. Spoelstra, 1st year houseparent, spoke on the rewarding independence that dorm life provides. At this age, not a lot of teenagers experience the time and responsibility needed for everyday activities. As Karla said, "Yes, you have people to remind [you] to do certain things…., but a lot of the independence comes from being a functional adult." All boarders are in charge of their own laundry, cleaning, and tasks for school. These provide boarders an opportunity to jump into a life that doesn't rely on their parents or guardians to do essential life skills for them. For example, when students attend at least one of the two study hall sessions, the work that students are doing is not being managed. Ms. Spoelstra  reiterates the point that a boarding school life "teaches independence of self-regulation and self-discipline … by being responsible [for] themselves." 
Not only does boarding life provide essential life skills, but students are more aware of how their actions affect other boarders. For example, because the boarders have the privilege of having a kitchen, there are responsibilities of cleaning up after yourself and making sure the boarding school is clean. Becoming aware that the boarding school common spaces are for everyone. So, if you disrupt or leave the kitchen dirty, you are responsible for the kitchen to be taken away from everyone else. "You are accountable for the other girls," Spoelstra says. However, this could lead to upsets within the boarding school about how it punishes all boarding students, instead of just one, not allowing them to make their own foods.
Along with these pros, there can be a lack of communication between houseparents. Each houseparent is on their own rotating schedules. This can provide challenges because some houseparents are not able to speak face to face with others. Despite group chats and duty reports, a way to communicate updates for each day in google docs, it can feel like you are "jumping through hoops of communication", says Spoelstra, when needing to talk to someone else. After speaking with Tapia, the way the houseparents communicate has hindered some parts of the boarders' lives. Tapia explains that "everyone says something else that's different and is really confusing lots of the time." 
As much as this article has tried to capture the lives of boarders, there are so many other aspects of  night students' lives that were not able to be combined into the article. With all of this being said, would you consider spending time in the dorm rooms to fully be engulfed in the experience of a boarder? If only there were a tradition that allowed day students to sleep over for a night in the boarding school, nevermind, there is, switch night. Switch night is a day where day students are invited to stay in the boarding school for a night and experience what living at school is like. When switch night becomes instituted again after COVID regulations are decreased, day students would develop a heightened sense of awareness around night students' lives that would bridge the gap between day and night students. This would push day students to educate themselves on the advantages and disadvantages of boarding life.